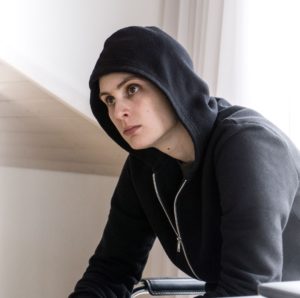 i started playing music at the ripe age of five on my family's old upright piano. my parents shortly got me into classical piano lessons—probably so they could get some relief from the annoyingly aggressive songs i made up. i continued studying classical piano for 17 years.
meanwhile, i joined several choirs and enrolled in classical voice lessons. after saving almost a year's worth of yardwork money, i bought myself a drum kit. (i still can't believe my parents let me set it up in their house). i took theory and ear training classes. i took classical guitar, violin, and trumpet. i was the church pianist. my parents' friends asked me to play at their weddings. you'd find me playing in hotel lobbies and local celebrations. i was the human karaoke machine for my siblings and their friends.
i did a whole lot of music.
there was something frustrating to me about it, though: all these outlets called for obsessing over music somebody else wrote. i wanted to create and perform my own.
i found ways to squeeze my music into a few places here and there, writing pieces for three different choirs and playing meditative improvisations during communion at church. i collaborated with a videographer friend on a multimedia stage performance that featured some of my own music.
but even this didn't quite do it for me.
not only did score writing feel tedious, but as soon as the music was in the hands of other musicians, i would realize what a control freak i was over the end sound. nobody performed my stuff the way i wanted it. (in retrospect, this probably had more to do with my teenage communication skills than anything else.)
during this time i got into drawing and painting. i've never thought of making visual art as a separate thing from music—instead it's spillover. i studied life drawing and painting as a foundation to build on. i guess i like making art. by now I'm responsible for close to 2,000 drawings and paintings, many of which are in homes and offices all over the world.
it wasn't until i started exploring music production that i found a way to create my own music just the way i wanted to—hindered only by my knowledge of tools and software, and not by anyone's opinions. i got my first mac at age 16, and garage band was my gateway drug.
i'd created more than 100 scattered tracks before finally buckling down and creating my first album. i wrote, produced, and released the marks it makes in 2016. since then, I've produced the electro-experimental album copenhagenism, and expanded to the more complex alt-rock album mutagenesis.