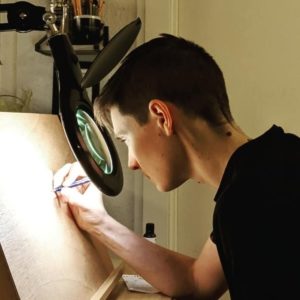 My name is Adrien Converse, and Lurm is—for lack of a better term—the nickname I've given my subconscious. I use this name to sign off on the creations I pull from my deepest, weirdest, hardest-to-make-sense-of internal explorations.
This site is a place where I share the things I've discovered on those expeditions (mostly through surreal art and music). Conveniently for you, it also happens to make a pretty fun tool for anyone doing their own inner spelunking. 
GET STARTED
Relax and clear your thoughts for a few minutes, and then hit the button below. You'll be served an art piece + riddle combination from my library of creations. It will give you a launching point for exploring unanswered questions in your own head—and you will probably end up with some interesting rabbit holes to follow.
Most of these riddles have links that connect them to specific other riddles, and you can continue down a path that way as far as you like (or until you reach a loop or a dead end).
You'll also find a button at the bottom of each page that says "another," which will take you to a random new starting point.
Good luck in there.