this weekend i pulled all my jugs of glue, epoxy, and paint out of my closet and set up shop in a cleared out section of a friend's half-full garage.
to demonstrate to myself that this garage was now a studio, i did a studio thing. i poured some black and white paint mixtures over a piece of glass from a repurposed frame. i don't know what the finished painting looks like yet but i'll find out today when i go back there.
i took some pictures of this experiment on my phone and shared one of them to unsplash, which bumped me well over the 3-million-views mark i mentioned i was nearing last week. it's cool, making something out of curiosity that has a useful byproduct for other creators.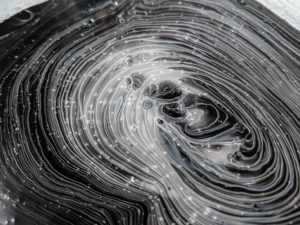 more experiments ahead
this new garage setup, along with the fact that i got my hands on some silicone muffin trays, means that i can finally try my hand at resin casting. if you haven't seen the kinds of things people make with epoxy resin, you're missing out. case in point: this resin creation by artist josie lewis.
mutagenesis got some attention
my album, mutagenesis, got picked up for a review by the indie site divide and conquer, which described it as "an avant garde experimental album with palatable hooks." sounds cool. i should give it a listen.
the reviewer, matt, seemed to dig the third track, daycatcher, which you can listen to here:
at the end, matt theorizes that my "best work is yet to come." thanks, matt. i think so, too.
i'm in the process of re-releasing both mutagenesis and copenhagenism under my new artist name, which, surprisingly, isn't all that tough to do. turns out lots of bands end up changing their names … maybe for legal reasons, or maybe because they originally chose a name that sucked.
or maybe, like me, they just do it because it feels right.
that's a legit enough reason.
stay interesting,
lurm